Application and development prospects of new desulfurization technology
Categories:

Company News

Author:

Origin:

Time of issue:

2020-01-10 09:14
Application and development prospects of new desulfurization technology
Categories:

Company News

Author:

Origin:

Time of issue:

2020-01-10 09:14
Today, I will mainly introduce new desulfurization technologies. These technologies have emerged with the development of various emerging technologies. For desulfurization technologies, they are new developments and advancements.
1. New desulfurization technology
1. Plasma technology
Plasma chemistry, which was formed in the 1960s, is an interdisciplinary subject. It is a technical method that combines high-energy physics, discharge physics, discharge chemistry, reaction engineering, and high-voltage pulses. The concept of waste gas treatment is to directly transfer energy to gas molecules through an electric field, forming a large number of photons, electrons, ions, free radicals and active atoms, excited state atoms, excited state molecules and active molecular fragments, etc., so that many can not happen or need to be Chemical reactions that can only occur under extremely harsh conditions can be carried out at near room temperature. The main advantages of plasma treatment of waste gas are: short treatment process, high efficiency, low energy consumption and wide application range.
2. Catalytic oxidation desulfurization technology
The catalytic oxidation desulfurization technology is a new desulfurization technology based on industrial catalysis. The sulfuric acid industry adopts vanadium-based catalysts to catalyze and oxidize high-concentration SO2 flue gas to produce sulfuric acid, which is already a very mature process. This article mainly introduces the catalytic oxidation technology of low-concentration SO2 flue gas.
Activated carbon catalytic oxidation of SO2 is a technology developed based on its good physical adsorption and chemical adsorption. The complex pore structure can adsorb and fix the SO2 in the flue gas through physical action, and the surface oxide on the microcrystalline carbon can oxidize the adsorbed SO2 into sulfuric acid in an environment of water and oxygen.
3. Catalytic reduction desulfurization technology
Sulfur in SO2 is in an intermediate valence state, so it can react with an oxidizing agent to form sulfuric acid, and it can also react with a reducing agent to form elemental sulfur or hydrogen sulfide. Catalytic reduction desulfurization is the use of a reducing agent to directly reduce SO2 in the flue gas to elemental sulfur under the action of a catalyst. C0, H2, CH4, and C are the main reducing agents in the catalytic reduction process.
According to the different reducing agents used, the catalytic reduction desulfurization technology can be divided into: H2 reduction method, CO reduction method, C reduction method, etc.
4. Electrochemical desulfurization technology
The electrochemical desulfurization technology relies on the strong oxidizing property of l2/Br2, oxidizes and absorbs SO2 in the flue gas to generate sulfuric acid, and heats the flue gas to generate relatively pure concentrated sulfuric acid. The HBr or HI formed after the reaction is regenerated into 12 or Br2 through electrolysis to participate in the desulfurization reaction of flue gas.
As a new type of green recycling technology, the main advantages of electrochemical desulfurization technology are: 1) Avoid the disadvantages of a large amount of impure calcium sulfate/calcium sulfite or a considerable amount of acidic wastewater in the traditional wet desulfurization process; 2 ) The redox agent used is not easy to lose; 3) The electrochemical desulfurization technology can obtain high-purity sulfuric acid, so that the sulfur element can be recycled, which meets the requirements of circular economy; 4) The electrochemical desulfurization of flue gas has high electrolysis efficiency (> 90%), the process is simple, the desulfurization rate is high (~99%), and the operability is strong.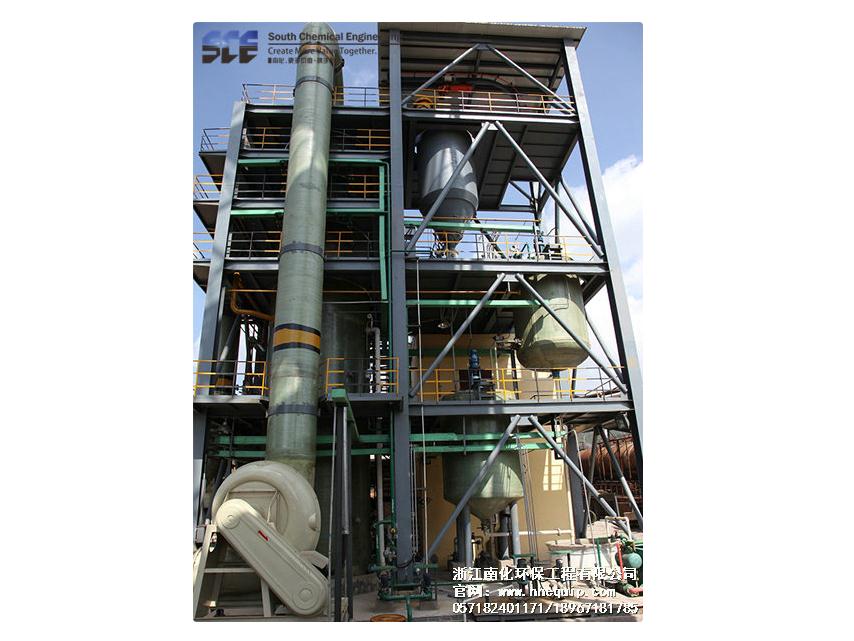 2. Conclusion and Prospects
With the improvement of public awareness of environmental protection and the strengthening of national environmental protection efforts, industrial production will continue to progress in the direction of green production and comprehensive utilization of resources. The sulfur-containing tail gas discharged from industrial production is also a usable resource, and the technology that can realize the comprehensive utilization of sulfur-containing tail gas is a direction for the development and progress of flue gas desulfurization technology in the future.
Yangzhou Jinyuan Chemical Equipment Co., Ltd.